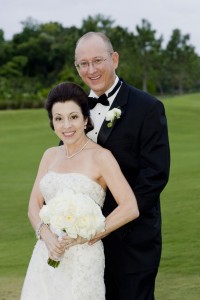 For the first REAL Weddings Submission, I am posting my own wedding which was (in my opinion) PERFECT!
The overall theme of our wedding was "classic Hollywood". We wanted the feel of a 1940's Hollywood hotspot like Ciro's or the Coconut Club and we planned our wedding date around local celebrity, Michael Andrew's schedule because he was the perfect fit for that type of event.
I planned the wedding myself with no wedding planner and managed every detail so that by the day of, I was completely relaxed. I used an excel spreadsheet timeline that I will share for FREE – you can download it here.
The invitations probably took more time and energy then the rest of the affair. I wanted something special so that when the guests opened it, they knew what the evening would be like. I was surprised I was unable to find musical invitations so I set about to create them myself. Beginning with a custom invitation I added more details and configured a beautiful box that sang "Fly Me to the Moon" (my first dance music) when opened.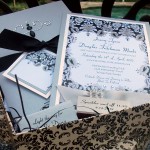 We also made our Rehearsal Dinner and Day After Brunch invites look like old movie posters (Dinner at Eight and Breakfast at Tiffany's). Our photographer was Sterling Photography and we our photo engagement session was done in old Hollywood poses so we had those images to use on our menus and posters.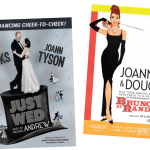 Finding a gown was harder than I thought! But when I put on the Justin Alexander I knew I had to have that dress. The dress was extremely flattering, sophisticated and comfortable plus had a slightly 1940's feel to it! My hair and makeup was done by Dawn Henderson of The Loft at Dawchers. I felt like a movie star walking down the aisle (with my handsome nephew escorting me).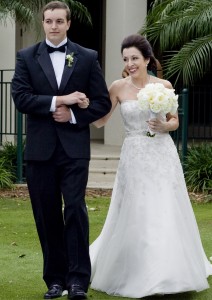 The setting for the wedding was Interlachen Country Club which is 3 minutes from our house. The Country Club is very elegant and their chef is outstanding. The ceremony was on the golf course facing the lake. It was a very intimate occasion with only 54 guests. I had no bridesmaids but my niece, Nicole LeBlanc, was my flower girl and my nephew, Devin Day walked me down the aisle. My other two nephews were in charge of seating everyone. Nicole walked down the aisle to Somewhere over the Rainbow and I walked to the traditional Here comes the Bride. Doug and I wrote our own vows and mine had references to movies. His were very sweet and funny as well. Afterwards, we exited to The Best is Yet to Come.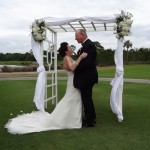 After the ceremony, the guests were ushered into the cocktail lounge where we had a three piece jazz band performing, open bar and appetizers passed around– Beef Wellingtons, Escargot in Brioche, Quiches and Cheese Puffs. The center of the room was the cake table complete with three cakes and the guests favors (with escort cards attached) – which were a CD of Michael Andrew's Tribute to Sinatra . The cocktail high boys had feather centerpieces.   The cakes were done by Everything Cake – Alejandra Rodriguez. The linens were from Over the Top. After formal pictures, Doug and I joined the cocktail hour to meet and greet our guests. Then I left to change into my "dancing gown" – lots of sparkle in pearls and sequins but light as a feather and easy to dance in.
The ballroom was set with a huge dance floor and the bandstand was the focus. We had a "gobo" light behind the band. Ten guest tables were arranged around the dance floor. Each table was decorated in black, silver and pearl. We had sequined toppers over silver lame tablecloths and black beaded placemats. The centerpieces were tall black candelabras with crystal swag on them.  Around the centerpieces were rhinestone candle holders and votives that were made by me since I couldn't find any to purchase. The evening was lit mostly by candlelight. Each table was named after a famous Hollywood couple and each table's menu had a story on that couple. When some guests discovered each table was different, they set out to try and collect all ten so I know they were a hit! Guests were in black tie and everyone looked fabulous.
We entered and immediately begin our first dance as man and wife to Fly me to the Moon. We had been taking dance lessons for almost three years and spent the last year on this one dance which was choreographed by Michael Dean, our dance instructor! After our perfect dance, we toasted each other and everyone got up and danced and the night was in full swing. The meal was perfect (guests had chosen from Chateaubriand, Salmon en croute and Chef's creation Pear Chicken), champagne and wine flowed and people danced.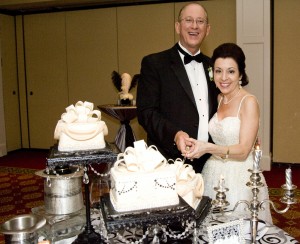 But perhaps my favorite part of the evening was our Sparkler Exit. I changed back into gown #1 and we went to exit under the stars and the sparklers. Because we had long sparklers and a short walk,  we had time to do it 4 times, with our guests shouting "one more time". As we got ready to get into our car, our guests all spontaneously started serenading us to "Fly me to the Moon". It was truly magical.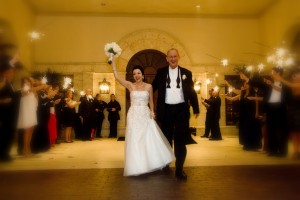 We drove home and my new husband carried me over the threshold! It was the perfect wedding; I wish I could do it over and over again.
4 Compromises You May Need To Make In Month One Of Marriage
Marriage is a commitment that takes hard work and dedication to ensure a happy life with another person. Although there are many benefits to marriage, it is also requires a bit of compromising to ensure that each person is happy in the relationship. These compromises most commonly begin in the first month of marriage.
1. Sleeping Habits
You may be used to getting the sheets all to yourself, but in the first year of marriage it can be an adjustment giving up your space in bed and not getting the sheets to yourself. It can also mean dealing with someone else's sleep schedule, which can include your spouse getting up at an early hour or going to bed much earlier than you. You can easily compromise on sleep, which will take time to adjust to before you both get in a rhythm.
2. Financial Decisions
Having your own bank account means having the freedom to chose where your money goes and what your expenses include. Sharing it with a spouse can mean compromising on where the money is used, especially if your spouse has a particular need. It can mean giving up certain luxuries, like shopping, once having to pay for other necessities in marriage. If your spouse has debt, it can also mean having to pay it off and put certain luxuries aside.
3. Schedule
Your schedule will likely change in the first month of marriage as you learn to spend time with your spouse after work or on the weekends. It can mean not heading out for a round of golf with your friends to spending Sunday cleaning or with your in-laws. Marriage means having to compromise with your schedule and have more flexibility to ensure the needs in your relationship are met.
4. Space
Whether your spouse moves into your home or vise-versa, it will be an adjustment giving up extra drawers in your dresser or part of your closet. Shortly after getting home from the honeymoon, many newlyweds often discover that they simply don't have enough room in the home for their combined belongings, making it important to consider self storage units in Stockton CA without having to get rid of any possessions. This can make it easy to continue owning the items until moving into a larger space where you'll be able to display and use them once again.
The honeymoon period of marriage after the honeymoon actually ends is not always all it's cracked up to be for newlyweds. This is especially true for traditional newlyweds who are living together for the first time. There will be many little things that they will have to adjust to when they first start living together.
1. Sleeping Together
This is not about sex. This is about the act of sharing a bed with another person. For someone who is not used to it, it may be very awkward at first. It takes time to get used to sleeping next to a partner. Make sure to prepare yourself for an adjustment phase.
2. Two Sets of Possessions
Combining the things of two people into one house can be a difficult task. If you do not have enough room, then consider the advantages of renting a storage unit. Even if the unit is just a temporary storage place until you get settled, the storage unit can help you until you get your new home organized according to an expert from Extra Space Storage .
3. Combining Finances
The financial issues face by newlyweds can be complex. Money arguments are one of the most common types of arguments for all married couples. Make sure to communicate openly about your finances to avoid conflict as much as possible.
4. Sharing the Chores
When it comes to household chores, you may not always agree about who should do what. They key is to sit down and discuss it. Draw up a list of weekly chores to ensure that everything gets done without conflict.
5. Choose Your Battle Lines Carefully
The key to maintaining a happy marriage is to let the little things go. You want to avoid conflict whenever you can. If you are always harping on your spouse about little things, then you won't be able to impress upon your spouse your seriousness when the big issues arise. Don't make a stand on an issue unless it's very important to you.
6. Compromise
An ability to compromise is at the heart of any successful marriage. You must be willing to reach an understanding on all the issues in your marriage. No matter how big or small the issue is, make sure to reach a common ground with your spouse. A favorite saying at Music Box Invites is that "love is the highest form of tolerance" (that was said by Richard Burton!).
If you follow these six tips, you will find the transition into married life goes much more smoothly. You will avoid the rocky start that many people seem to face when they first face the challenge of sharing their lives.