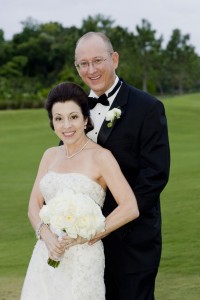 For the first REAL Weddings Submission, I am posting my own wedding which was (in my opinion) PERFECT!
The overall theme of our wedding was "classic Hollywood". We wanted the feel of a 1940's Hollywood hotspot like Ciro's or the Coconut Club and we planned our wedding date around local celebrity, Michael Andrew's schedule because he was the perfect fit for that type of event.
I planned the wedding myself with no wedding planner and managed every detail so that by the day of, I was completely relaxed. I used an excel spreadsheet timeline that I will share for FREE – you can download it here.
The invitations probably took more time and energy then the rest of the affair. I wanted something special so that when the guests opened it, they knew what the evening would be like. I was surprised I was unable to find musical invitations so I set about to create them myself. Beginning with a custom invitation I added more details and configured a beautiful box that sang "Fly Me to the Moon" (my first dance music) when opened.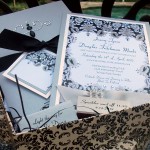 We also made our Rehearsal Dinner and Day After Brunch invites look like old movie posters (Dinner at Eight and Breakfast at Tiffany's). Our photographer was Sterling Photography and we our photo engagement session was done in old Hollywood poses so we had those images to use on our menus and posters.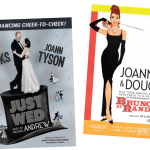 Finding a gown was harder than I thought! But when I put on the Justin Alexander I knew I had to have that dress. The dress was extremely flattering, sophisticated and comfortable plus had a slightly 1940's feel to it! My hair and makeup was done by Dawn Henderson of The Loft at Dawchers. I felt like a movie star walking down the aisle (with my handsome nephew escorting me).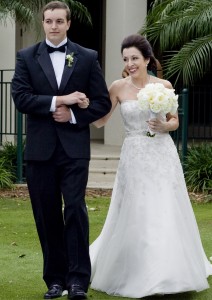 The setting for the wedding was Interlachen Country Club which is 3 minutes from our house. The Country Club is very elegant and their chef is outstanding. The ceremony was on the golf course facing the lake. It was a very intimate occasion with only 54 guests. I had no bridesmaids but my niece, Nicole LeBlanc, was my flower girl and my nephew, Devin Day walked me down the aisle. My other two nephews were in charge of seating everyone. Nicole walked down the aisle to Somewhere over the Rainbow and I walked to the traditional Here comes the Bride. Doug and I wrote our own vows and mine had references to movies. His were very sweet and funny as well. Afterwards, we exited to The Best is Yet to Come.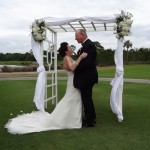 After the ceremony, the guests were ushered into the cocktail lounge where we had a three piece jazz band performing, open bar and appetizers passed around– Beef Wellingtons, Escargot in Brioche, Quiches and Cheese Puffs. The center of the room was the cake table complete with three cakes and the guests favors (with escort cards attached) – which were a CD of Michael Andrew's Tribute to Sinatra . The cocktail high boys had feather centerpieces.   The cakes were done by Everything Cake – Alejandra Rodriguez. The linens were from Over the Top. After formal pictures, Doug and I joined the cocktail hour to meet and greet our guests. Then I left to change into my "dancing gown" – lots of sparkle in pearls and sequins but light as a feather and easy to dance in.
The ballroom was set with a huge dance floor and the bandstand was the focus. We had a "gobo" light behind the band. Ten guest tables were arranged around the dance floor. Each table was decorated in black, silver and pearl. We had sequined toppers over silver lame tablecloths and black beaded placemats. The centerpieces were tall black candelabras with crystal swag on them.  Around the centerpieces were rhinestone candle holders and votives that were made by me since I couldn't find any to purchase. The evening was lit mostly by candlelight. Each table was named after a famous Hollywood couple and each table's menu had a story on that couple. When some guests discovered each table was different, they set out to try and collect all ten so I know they were a hit! Guests were in black tie and everyone looked fabulous.
We entered and immediately begin our first dance as man and wife to Fly me to the Moon. We had been taking dance lessons for almost three years and spent the last year on this one dance which was choreographed by Michael Dean, our dance instructor! After our perfect dance, we toasted each other and everyone got up and danced and the night was in full swing. The meal was perfect (guests had chosen from Chateaubriand, Salmon en croute and Chef's creation Pear Chicken), champagne and wine flowed and people danced.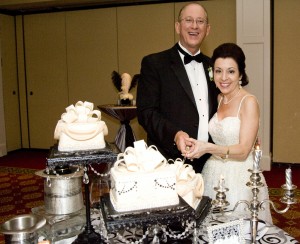 But perhaps my favorite part of the evening was our Sparkler Exit. I changed back into gown #1 and we went to exit under the stars and the sparklers. Because we had long sparklers and a short walk,  we had time to do it 4 times, with our guests shouting "one more time". As we got ready to get into our car, our guests all spontaneously started serenading us to "Fly me to the Moon". It was truly magical.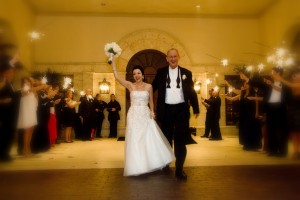 We drove home and my new husband carried me over the threshold! It was the perfect wedding; I wish I could do it over and over again.