Mariel Hernández married the love of her life, Milton Carrero, on May 27, 2012 in Moca, Puerto Rico. They wanted an outdoor wedding that was not at the beach so they chose the beautiful Palacete Los Moreau, a French-style castle turned museum.
As the bride walked down the aisle, she shimmered in her Maggie Sottero gown, underneath which were Badgley Mischka bridal pumps. Not one to wear a traditional veil, her eyes were covered by a whimsical birdcage veil. Didi Saldana was able to perfectly capture the hair and makeup look that she desired.
One of their favorite elements were the Wish Lanterns.
At the end of the reception, guests were invited to light up the sky with a wish using White Eco Wish Lanterns. These wish lanterns are made with rice paper on a bamboo frame that will biodegrade soon after landing so that it keeps the beautiful venue green and healthy.
The couple also used biodegradable confetti.
To thank guests for coming, Mariel incorporated her love of fortune cookies into the wedding favors. Inside each takeout box was a colored fortune cookie with the message "As we start our new journey we want to thank you for coming aboard and celebrating with us." Mariel used her innovation to make the tags on the custom takeout boxes using scrapbooking materials.
Friends and family who attended were involved in this special day more than once. During the reception they were invited to share their table cards which had the names of places where the couple shared special moments together, like their favorite beach, first kiss, first date, favorite restaurant, and the proposal.
The couple treasured many moments from their wedding, among them- their first night as a married couple at Villa Montaña Beach Resort and a custom music video featuring the couple by Fortaleza Mia Ministry.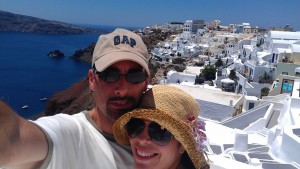 Mariel and Milton loved their 24-day Mediterranean Romance Cruise aboard Ms. Nieuw Amsterdam from Holland American Line, followed by three days in Barcelona, Spain!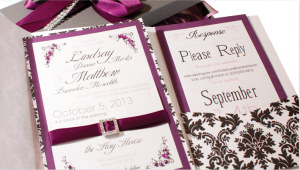 We think that our musical invitation Amethyst Damask would have suited Mariel and Milton's classy and conscientious wedding nicely.
Allow us to feature your wedding next! Send an email to kristina@musicboxinvites.com and we will follow up with the next steps.