I met Danielle Querin eleven years ago when we were both middle schoolers in Palmer, Alaska. After high school flew by we both moved away – I to Florida, and Danielle to Washington. Danielle met her future husband, Grant Alford in Washington State and she became Mrs. Alford on September 8, 2012 and exchanged vows at Saint Josephs Catholic Church in Spokane with all her friends and family in attendance.
Not wanting her bridal excitement to be discouraged by unanticipated problems, Danielle decided to be in complete control from the start and not hire a wedding planner. According to our very organized bride, "The end result was beautiful but the road getting there was bumpy.  Wedding prep can be stressful. Not everything will be perfect along the way but if you keep your mind on the end result and what is really most important throughout it all you will have not only a beautiful wedding, but a beautiful marriage."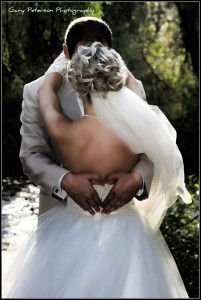 When she first started planning the wedding, she was unsure of how big the budget would be so she chose the colors gold and ivory because even if it was a small, low budget wedding, gold would help make it look classy, elegant, and upscale.
I need to mention that this couple is a huge Disney fan. Of course the first thing is the dress – she choose a strapless custom-made fairytale ball gown style – what other time can a girl get away with one? In addition, the bride's lace gloves (both gown and gloves were designed and made by Marcella's) and blonde wavy up-do made her the complete princess package. Her bridesmaids were in lovely beige tone dresses they found on sale at JC Penney's!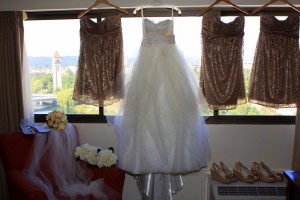 Danielle didn't want a cookie-cutter cake (pardon the pun) and her cake was anything but.  This unique "cake" pictured here is not edible; it is actually three overturned hat boxes that have been expertly decked out to resemble an enormous gold and ivory three-tiered cake. And the topper – well, nothing less than Cinderella and her Prince would have suited this Disney fan!  And instead of the traditional cutting of the  cake photo,  instead of feeding each other a slice, they had cream puffs.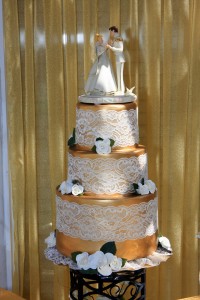 She also wanted her flowers to be memorable and decided against REAL bouquets  but instead had her lovely gold and ivory rose bridal bouquet was made by aNeMoNe, a paper florist and the centerpieces were made from silk flowers by the creative bride herself. These are truly flowers that won't die.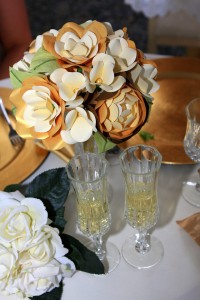 The only hiccup in the day was her makeup artist. Danielle recalls "I did not do a trial run and hated my makeup. And on top of that she took an hour longer than expected and threw off the day's schedule making the videographer and photographer have to wait on me". Her tip to other brides, "If you are comfortable doing your own make up, do it!  If you are having someone else do it, make sure you do a trial run. No one knows your face and makeup better than yourself.
The couple also wanted the food to be very memorable. After sitting through two tastings, the menu did not feel right until one day at lunch they decided to book Pizza Factory to make personal pizzas for everyone. The (groom's parents) backyard reception was in a tent of gold and ivory. Many trips to thrift stores provided them with 120 gold plate chargers, wine, water, and champagne glasses along with all the beautiful drapes used throughout the tent.A team of twelve young men from the football team that Grant coaches volunteered to serve the appetizers, salads, pizzas, and beverages – most of the accompanying food came from Costco and her mother in law made the serving jackets for the servers.  Elegant touches such as their logo embroidered gold napkins really helped complete the theme.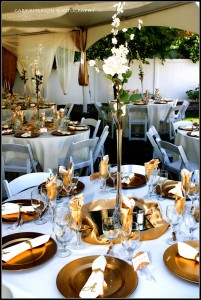 Danielle heard that some brides were not hiring videographers but she is so glad she had a videographer in addition to a photographer. I could not agree more – pictures don't convey the subtle looks exchanged between the couple. This video by Grace Media is beautiful.  Her wedding photographer was Gary Peterson Photography.
If Danielle had gotten her invitations done by Music Box Invites, I think she would have chosen our Great Gatsby ones in gold and ivory, accented by pearls. The song? Why, One Day My Prince will Come, obviously!