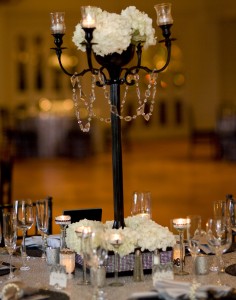 There are lots of details to keep track of when you are planning a wedding. Many of these details involve the wedding reception. This is going to be the place where the wedding guests spend most of their time, which means you want it to be as perfect as possible. Here is a list of six items every wedding reception needs.
1. Table Cards
A key to a good wedding reception is organization. You need to make sure to place cards at each table to make it easy for guests to find their seats. If you want to get creative, you can label the tables with song titles or famous names to make them more memorable.
2. Music
Unless you are going to hire a band, you will need a good DJ to keep the atmosphere energetic at your wedding. Avoid the temptation of making your iPod the DJ. Even if you do decide to make an iPod playlist for your reception, you should get someone to monitor it to skip songs if things are too slow. And if you do have a band, use the IPod to provide music when the band is on break.
3. Cake
The cake is one of the most important parts of the reception. You don't have to pay a fortune for a wedding cake. Get some cake pans and have a friend who likes to bake make your cake. This will create a special desert when you have a friend make you a custom cake. They will be honored, and you will save a bundle. One trendy idea is to have decorated cupcakes in lieu of a cake. If you choose to do this, you can plan it the same way as you would a cake. Purchase some nice cupcake pans and ask a good friend to make a variety of types. You could have lemon, rasberry, chocate – the options are limitless.
4. Open Bar
Don't be cheap when it comes to this part of the reception. There are plenty of other areas where you can save money. An open bar will guarantee that your reception will be lively.
5. Photographer
Make sure that the photographer gets plenty of shots at the reception. As well as lots of candid shots, try to gather everyone together for as many group shots as possible.
6. Centerpieces
Beautiful centerpieces create a great setting for a wedding reception. Flowers are the traditional centerpiece, and you won't go wrong if you choose to use them. However, feel free to get creative with your centerpieces. One romantic idea is to roll up a page of sheet music of your song. Wrap it with a beautiful ribbon and place it in a vase in place of flowers to create a striking centerpiece.
If you plan ahead, you will be able to gather together everything that you need to create the ideal wedding reception. Don't be afraid to ask for help from family and friends. You only have one chance to host your wedding reception. Make it count by planning out every detail.