Each wedding is truly unique and not only for every couple, but for the wedding guests as well. But, one of the best ways to make your wedding guests feel that your wedding is, indeed, extraordinary is to start everything with sending them invitations that are unique and very creative.
Instead of being the same old bride that ships out pieces of paper with the date, time and place, why not be a bit creative? To help you stand out above the rest, here are five creative ways to invite wedding guests you may want to consider:
Luggage tags
If you are inviting your wedding guests to travel with you to your wedding venue, then you should consider printing your invitations on a luggage tag. Just remember that while luggage tags are small, you're going to have to be creative to fit all of the details in.
Post Card
Post cards as wedding invitations may prove to be very handy for each wedding guest. Include some pre-nuptial photos of the couple, and the details of the wedding must be printed right at the front side of the post card. To add some variety, make sure that each post card has a different photos of the couple.
Audio CD
Hire someone with a good voice, and give them the details of the wedding that will serve as the lyrics. From there, ask them to sing everything to the tune of your theme song. Just make sure that everything will be recorded clearly. To cut expenses, it would also be wise that the groom or the bride or both of them sing out the song. This adds more excitement to your wedding guests. Hand this audio CD together with the printed version of the lyrics.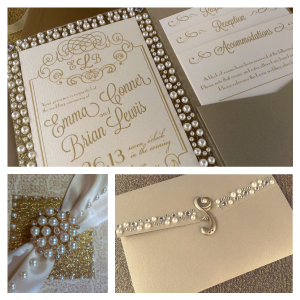 Custom Couture Musical Invitation
For the bride that really wants her wedding to be memorable and celebrity inspired, consider working with a professional custom couture wedding invitation company. Imagine a guest opening a gorgeous box and your song serenading them as they admire the beautiful invitation embellished with your wedding theme. Music Box Invites can even work with artists to create a painting or illustration exclusively for you that is used on the invitation. To understand how this works, check out their videos.
Message in a bottle
Insert the details of your wedding inside a clear bottle together with some colorful seashells and sand. Make sure to use a cork or cap that tightly seals the bottle to prevent the sand from spilling. Wrap an attractive ribbon around the neck of the bottle according to your wedding motif and theme.
DVD Invitation
If movie making is part of your favorite past time activities then making a movie out of your wedding invitation would surely make it all extra special not only for your partner but for your wedding guests as well. The musical score of your movie must include love songs that will capture the heart of every guest and make it hard for them to refuse such invitation. This mini-movie must also include some clips of the couples' photos. A story line telling the guests just how the couples met each other would also be great.
Wedding invitations are just one of the many aspects of the wedding preparations. Whenever you plan to tie the knot, it is always best to set aside not only money, but enough time as well to prepare everything. This way, everybody can have the chance to think and plan about the best and most appropriate things that will contribute towards a memorable and extraordinary wedding.
Guest Blogger, Jessica works for How Much Is It? — Here, you can find prices on weddings, car repairs, pets and so much more. With more than 3,000 guides, you're bound to find the price on just about anything.