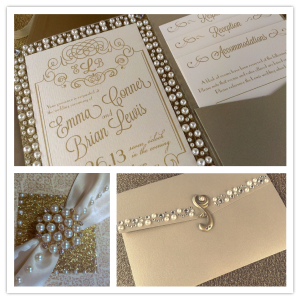 Music Box Invites LOVES weddings and wants to share REAL weddings with our  Blog and Facebook fans. So beginning in April, each WEDNESDAY we will focus on a real wedding. Wedding submissions can be from wedding planners and/or actual couples or their families/friends.
There are very few rules ..
We don't care WHEN the wedding was – 10 days or 10 years ago, doesn't matter to us!
If you are using pictures that your photographer took, you must give photo credit
Keep it short – no more than 5 pictures and 3 paragraphs – we WILL edit to make the blog read better but try to keep it sweet and to the point.
If someone other than the couple is submitting the wedding, we need to have the couple's permission and their email address so we can follow up with them.
Please include the following:
Date of Wedding
Name of Bride and Groom
Bride and/or Groom's email address
Place: Venue, City, State
The vendors you used (and if possible links to their sites) that you LOVED  - tell us why you loved them so that other couples can try them
Your FAVORITE moment of the day
Your FAVORITE item(s) of the wedding (ie: Bouquet, cake, invite)
Anything you did really differently from other weddings
To submit, please go to this link: http://www.musicboxinvites.com/write-for-us/
If you are chosen (and we will try to choose EVERYONE who submits), we will get back to you and let you know what day it will be featured on our blog/Facebook page so you can share it with all your friends. You will need to LIKE our page to do so.
So please SHARE your wedding with Music Box Invites!
When it comes to wedding styles, a bride has no shortage to choose from. The endless selection of dresses and hairstyles paired with enough jewelry options to outfit a Queen can have you feeling overwhelmed long before you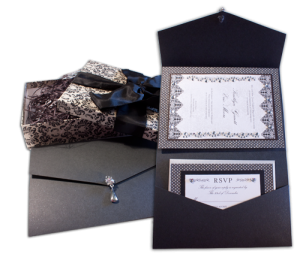 walk down the aisle. If you're searching for a look that's both modest and elegant, check out these four wedding styles that keep it traditional and classy.
The Elegant Wedding Invitations
If you want your guests to know your wedding style and therefore dress appropriately, remember their first impression is the wedding invite (and the Save the Date). Don't email your Save the Date if you want the event to be Traditional and Classy – make sure to follow the traditional style of formatting your invitation and use high quality papers. To truly make this your "own" consider using a custom couture wedding invitation company to design and print the invitations.
The White Ball Gown

A bride wearing white is the embodiment of grace, and there's nothing more charming than a classic ball gown. Choose a strapless satin gown if you want to show of your shoulders without baring too much skin, or dazzle your groom by wearing a tulle gown that floats across the floor. If you're looking for a style that's truly glamorous, a ruffled dress featuring a long train will guarantee all eyes stay locked on you. Finally, for a traditional look with a bit of a modern twist, try an off-white dress with subtle beading on the bodice.
The Tiered Veil
A tiered veil is perfect for showing off an updo and complementing your facial features. Whether you choose a one-tiered veil with sheer lining that flows down your back or a two-tiered veil that just brushes your collarbone, you're sure to be a showstopper. For a truly unique look, forgo the veil and use a chiffon scarf. Draping the scarf around your shoulders or incorporating it into your updo can add that perfect little touch of class you're looking for.
Antique Jewelry
From pearl necklaces to chandelier earrings, antique jewelry brings a bit of vintage glamour to your entire outfit. It's easy to go overboard on jewelry, but a few statement pieces will serve you best when you're aiming for a traditional look. A pair of champagne rhinestone earrings will bring out the sparkle in your eyes and complement your smile, and an art deco hair clasp will have your bridesmaids gushing.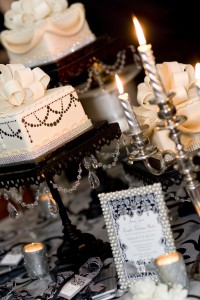 A Classic Cake
Once you've got your outfit picked out, it's time to focus on the food. Every wedding guest will enjoy snacking on traditional appetizers like egg rolls and stuffed mushrooms, but the real center of attention will be your wedding cake. You'll likely want a tiered caked, but it's up to you how many layers to use. Some cakes tower as high as seven tiers, while others are just as elegant with three. Either way, white is the color of choice for classic wedding cakes. Simple cakes that use fondant to mimic lace patterns are a favorite with brides who love a clean-cut look, while cakes using elaborate floral designs can really set your wedding apart in the minds of your guests.
From her flowing tiered veil to her exquisite white ball gown, a traditional bride is truly a beautiful sight to behold. By recreating classic styles that brides all over the world have used for decades, you're sure to make your special day into a dream come true.
Our Guest blogger, Annabelle is currently a loving and caring mother of two children. She lives outside of Milwaukee, WI and loves cheering for the Bucks and Badgers. She is a blog enthusiast and loves writing, if she is not writing she is cleaning up after her two lovely angels. Email- Annabellesmyth@gmail.com