Every woman dreams of wearing the perfect gown on their wedding day. These dresses should enhance the overall look if the bride and will help her transform in being the most beautiful woman of this day. But what if the bride has gained some weight and the wedding day is fast approaching? Is there any other way to find a wedding dress that will compliment the bride's figure and maintain here magnificence at the day of her wedding? If dieting is not an option in dealing with this issue, then there are still some ways to get the right dress. All you need to do is to learn where to find wedding dresses for plus size women.
Consider These Tips In Finding Big Size Wedding Dresses That Will Suit Even Your Small Budget:
1. Retail Chains – More and more retail chain stores responded to the need of every woman who are looking for affordable wedding dresses as most of these stores are offering different types of wedding dresses in a variety of sizes. You can enjoy from the many cuts and styles and these dresses can go from the smallest size up to size 20! Just visit one of the many retail stores nearest you and you'll be able to find plus size wedding dresses at any time of the day. Take a look at some of these pics of wedding dresses sold at retail stores.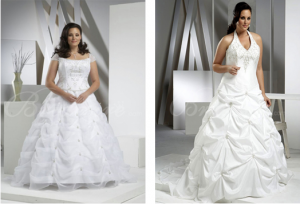 2. Internet Search – If you don't have time to look outside, then why not use your own resources and find plus size wedding dresses over the internet. A lot of online wedding sites and certain selling sites sell wedding dresses for big sized women and even big size bridesmaid dresses. Just make sure that they offer the customization option so that you may be able to adjust your dress to fit accordingly to your body. Check out some of these big size dresses you can purchase over the net.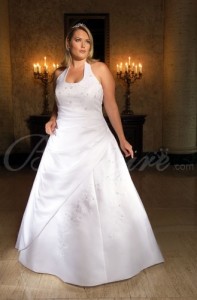 3. Used Clothing Stores – When looking for plus size wedding dresses, sometimes you have to go beyond bridal shops and boutiques. You may even have to do the unconventional way of shopping and that is by visiting certain used clothing stores. Used clothing has slowly risen in the mainstream market and it's now being considered as one of the most practicable areas for buying wedding dresses. Used clothing comes in a wide range of cut and sizes and they also cater to wedding dresses for big sized women. Just make sure to dry clean the dress before wearing it because you'll never know who wore this dress and how it handled from the warehouse to the store. So to prevent any hygienic issues, clean the wedding dress to make it look fresh before wearing it on you special day. Take a look at some of these pictures of plus size bridal gowns you can get at a used clothing store.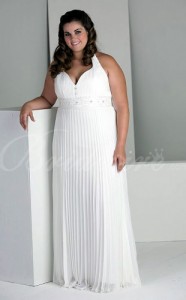 Conclusion:
Be reasonable and smart whenever choosing a dress for your day of matrimony. If you gain a little weight, it doesn't mean that you also have to spend more just to flaunt your way into the aisle. Just follow the tips on where to find wedding dresses for plus size women and surely you'll be able to have the right dress that will go well with your body figure.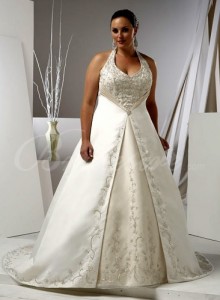 About The Author:
Joan Swinson is a 31 year old editor for The Green Guide. She is also works as a part-time clothing designer and has passion in collecting shoes of all styles. Joan is fond making blog posts as she wants to express her opinion on different topics of interest and encourage others to share their own opinions as well.