Every couple wants their wedding to be simply spectacular, it is the happiest day of your life and you want everyone to have an amazing time and to remember it forever right? But how can you have a truly amazing wedding if you don't have a big budget?
Well it's actually quite easy, here are a few wedding ideas that will save you cash and make for a unique and memorable day for all involved:
Picking The Venue
Most couples focus a little too much on the venue. Sure this is a big part of the wedding, but overspending on a grand venue may mean having to compromise elsewhere later. Consider very carefully what you actually want to spend your money on. You don't have to hold the wedding in a run down motel, but it also doesn't need to be a castle. Saving 20% on your venue will pay for a lot of distinctive touches later. If you have your heart set on a certain venue consider having your wedding off season or on a Sunday – many venues are not booked and will offer you the same fabulous location for less money.
Oh, and once you have found the right venue, negotiate! Remember that if you let a venue do your catering, they are going to be earning a lot of money – so ask for a discount, the worst they can do is say no.
The Main Bits
Prices for things like the dress, suits and cars can also vary a lot but in reality, some stunning wedding dresses can be had relatively cheaply. When you pay more you are often just paying for a particular brand. If you buy a nice dress off the shelf, you can pay a bit extra to have it altered so that it fits you perfectly, giving the impression of a bespoke dress at a fraction of the cost. Obviously there is the option of buying that wonderful designer gown pre-owned at a site such as Preowned Wedding Dresses or check out local consignment stores and bridal shops when they are selling their sample gowns for a fraction of the price.
Transportation
Is a limo to and from the ceremony/reception really necessary? What you spend on cars entirely depends how much you care about that sort of thing. Some people love cars and want to spend the extra, whilst other couples don't care as long as they get to the reception in comfort. Discuss this with your spouse and weigh up the options, it may be much cheaper to simply hire a nice saloon car and ask a friend to drive you. It only has to do one journey anyway!
Favors
David Tutera recently wrote an article and said to forget favors – no guest really expects them and most end up forgotten or even thrown away. Put that extra money into something they might save – like a really unique and special wedding invitation. One that plays music when they open it will not be tossed or forgotten.
The Details
For savvy wedding planners this is the bit that really matters because the thousands you have saved by being frugal in the main areas will give you extra funds to spend getting the details right. Things like having the right flower arrangement, paying extra for chair covers and having custom designed invites all make a big difference. These are the touches that make your wedding truly an event and unique.
Table decorations and name settings are also a great place to be creative. Putting the effort in here will really finish the look of your wedding and designing your own will only cost a fraction of your wedding budget. Check out sites like Pinterest and Etsy to get ideas on some DIY items that can make the reception tables look really special.
Here are some inexpensive ideas that are completely unique:
Table Decorations:
Get 10 matching teapots, using a block of oasis, fill them all with artificial flowers and top up with colored sand. Then use some small glass jars with tea lights to compliment.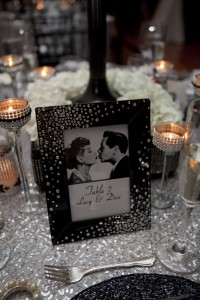 Candles
Get some glass candle holders from the dollar store and wrap them in rhinestone ribbons for a really upscale look. Use pretty frames to hold your table numbers.
Name Places:
Have your wedding at Christmas time and for name places simply print off names on some expensive card, cut up and put a hole in each name card. Tie each name card to a bauble with ribbon.
Bonus Tip:
By having your wedding at Christmas your venue will be cheaper and you may find that it is already decorated for Christmas, saving you the need to buy decorations.
About the author
Hi, my name is Nat. I work for collection 26, the wedding planners. I love weddings and everything about them and I love to have creative ideas to make them more unique.