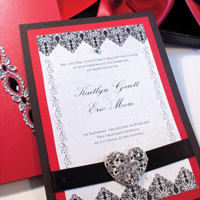 Choosing a wedding invitation can be just as difficult as choosing the bridal gown. First impressions last forever, and wedding invitations set the tone and theme for the entire affair – not to mention the fact that they are one of the lasting mementos of your wedding. The flowers die, the food is forgotten but years later you (and your guests) can look back at your invitation and remember the wonderful event. By going with a custom, couture invitation company, you can be assured that your invitation will be the perfect accompaniment to the most important day of your life.
A new trend within the realm of invitations has slowly been making its way into the wedding world and with the help of Kim Kardashian, it has finally been set ablaze: musical invitations. Kim Kardashian recently used musical invitations for her baby shower, sending guests an invitation in a music box that featured a lullaby version of partner Kanye West's "Hey Mama" and a twirling ballerina. Remember the song that was playing when you first locked eyes with your fiancé?  The music that provided the backdrop for the perfect first kiss?  The tune that you're planning on playing for your first dance? Songs that have a special place in your heart could provide the perfect touch to your wedding invitations.  There is only one company ready to supply brides this product. Music Box Invites is the only custom, musical invitation company that can provide a red-carpet celebrity styled invitation. Brides can work with the Music Box team to create completely customized invitations that feature the couple's choice of music and art work. Couples are free to choose from dozens of pre-recorded clips of music or upgrade to a customized song. They also offer access to artists that will come up with completely unique designs or record music for the invites.
Musical invitations might be the most unique trend right now, but it is not the only one. Observing the more than 800 stationery exhibitors who showcased their latest designs in May at the 67th National Stationery Show resulted in at least 12 other interesting trends for 2013 weddings. Here are some of the wedding invitation trends that were spotted.
Different materials other than paper – we saw invitations printed on wood, fabric and natural fibers.
Envelope liners – patterned ones, fabric ones, even a suede one was featured – Music Box Invites can custom print the liners to match your invitation paper selection
Poster style invitations – One of our favorite trends, our co-founder used this for her Rehearsal Dinner and Brunch invitations. Her love of classic films had to be represented in the big event. She also had a "Top Hat" inspired poster blow up for guests to sign at the wedding and that same image was used on her menu's and guest favors. Music Box Invites can customize the Invitations or Save The Dates to showcase the couple in their favorite movie poster.
Watercolor paintings, backgrounds, block press designs and hand printed elements – Music Box invites has access to local artists who can create ANYTHING a bride can think up. That is truly the only way to get a one of a kind invitation – when it is painted just for that couple.
Die cut shapes other than square or rectangle
Gatsby inspired designs and fonts – this year's movie is a trend setter and yet, still classic and timeless. We believe that Gatsby and the 1920's will continue to be popular for years to come. Also, black and white will always be a trend and was featured a lot this year as well.
Digital printing on the rise – no longer do invitations have to be letterpress to be elegant. In fact, most of the invitations found these days are digitally imprinted. This allows for smaller runs, different papers and mixes of colors/styles.
Laser cutting – a technique that involves a computer-controlled laser cutting paper into intricate patterns
South of the border and Southwestern colors and themes
Kraft paper, chalkboard designs and other casual, fun themes
Calligraphy style fonts that become the design hand-penned fonts for a look that feels equal parts classic and whimsical
Foil stamping and metallic papers– gold/silver stamping and overlays add a real touch of elegance and excitement to invitations. Once old fashioned and over-used, the new touches are not retro but very modern.
Whatever trend you choose, take your time to make sure that this invitation is something personal and perfect for you – just like you did when you choose your fiancé and your wedding gown!