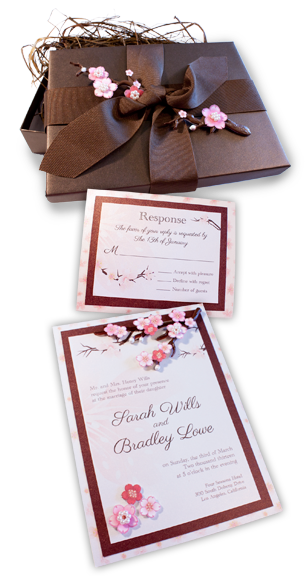 Musical Wedding Invitations can make your special day truly unique. Choose from a selection of pre-set designs, then choose your fonts, papers, embellishments, and box type and "build" your own invitation. All Semi-Custom musical wedding invitations feature "Here Comes the Bride" as musical accompaniment.
Have your invitations ordered already but would like to add music? We can supply a custom "music box" to go with your invites. Don't want music? Choose a printed or embellished box to add to the elegance of your own invitations. Contact us for more details.
Pricing
Semi-Custom Invites are $13 per set with a $50 set up fee.
View the Semi-Custom Design & Pricing Guide Agreement.
Basic 5×7 or 6×6 Invite Set Includes:
Invite – 3 layers (choice of paper color)
RSVP (no backing papers)
RSVP Envelope
Ribbon and choice of buckle
Box and shred in choice of color
Invite folder (no pockets)
Ribbon for holder
Music chip (featuring Here Comes the Bride)
Up to 5 rhinestone crystals or hand painted feature
$13 per set plus $50 set up fee

Upgrades:
Ribbon for box . . . . . . . . . . . . . . . . . . . . . . . . . . . . . . . . . . . . . . . . . . . . . . . . . . $1 per box
Easel back . . . . . . . . . . . . . . . . . . . . . . . . . . . . . . . . . . . . . . . . . . . . . . . . . $.50 per set
Upgraded embellishments (feathers, brooches, buckles) . . . . . . . . . . . . . . . . . . . . . . $1-$5 per set
Extra buckle . . . . . . . . . . . . . . . . . . . . . . . . . . . . . . . . . . . . . . . . . . $1 per set
Upgrade to pocket folder – $1 per set
Customized music – $1 per set (plus any licensing fees that may apply)
Hang tag for outside of the box with guests name on it – $1 per set
Upgraded papers – $2 per set
Extra card (map, reception card) – $1 per card
Invite and RSVP card holder – $2-$5 per set
Upgrade to pattern box – $1 per set
Upgrade to ribbons (patterns/velvet) – $1 per set
3D art – $1-$5 per set
"Music Box"
– $4 per set, add $2 more for box imprinting
Customized handmade paper box – $4 per set (allow an extra 30 days)
Different size papers/boxes – quoted on request