When I got married for the first time 25 years ago, there were a lot less choices to be made. I mean basically there were two types of cake and not tons of linen choices. Weddings were not "themed" as much as just "colored" and most favors involved Jordan almonds.
Luckily for me, I got another chance at love and marriage AND the fun of planning a wedding in this new era of "anything goes" weddings. Celebrating our first anniversary this past April, I am still very happy with the choices I made for our wedding.
First of all, we didn't invite all those distant relatives that our parents insisted you invite when you are in your twenties. We only wanted the dearest and nearest of our family and friends to share this important day with us. I wanted to be able to totally enjoy the day and not have to talk to people I barely knew. By keeping our guest list to a minimum, we were able to provide an over-the-top party for those who attended. For young brides I urge that you limit your guests and remember that the more people there, the less time you will have to enjoy yourselves because you will be spending time interacting with your guests. You don't have to allow "plus ones", if these are your closest friends and family, they should know each other and be able to attend and enjoy themselves without bringing someone you don't even know to your wedding.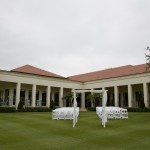 Our first good choice (other than with each other) was our venue. We wanted the ceremony outside by a lake but the reception inside and very elegant Interlachen Country Club (in our home town Winter Park, Florida)  not only gave us that but also had incredible food, a wonderful event planner and the prices were actually LESS than our other choices. I can't say enough great things about Natalie, their food and beverage manager. I didn't need a day of coordinator because she was all over it. They also gave us so much space and arranged the furniture so we had lovely seating areas. We had two different adjoining rooms – first one was for the cocktail hour and then hosted the bar, and the large ballroom was for the reception. But we also had the patio outside where the men went and smoked cigars and there were lovely wood rocking chairs for people to sit and enjoy the evening. We brought in champagne, had an open bar and had wine served with dinner (diners had three choices). We also served the side dishes "family style" so people could have more if they wanted. No one left hungry and everyone raved about the food. Remember all this when choosing a venue – the ones that provide the most items make it easier because you only have to deal with one person. I can't imagine how hard it would have been to deal with a separate caterer and such.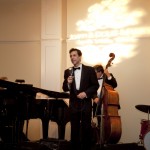 It was also a perfect room for our "theme" – 1940's Hollywood Supper Club. Lucky for us, we were able to have recording artist, Michael Andrew  perform at our wedding and he was so fabulous. Michael is a Frank Sinatra style crooner and was the youngest conductor at the Rainbow Room in New York, played at the Coconut Club in LA, and is heading to Broadway in a new musical version of The Nutty Professor. I think I will always have fond memories of him coming to our house a couple of weeks before the wedding to go over the song list. He practically performed a private concert as he sang examples of some of the songs.
The ceremony was lovely outdoors by the lake. My nephew walked me down the aisle to the traditional "Here Comes the Bride" and my husband and I exchange vows we wrote for the occasions. Lots of laughs and tears later, we departed to "The Best is Yet to Come" and our guests made their way into the cocktail hour. We had a jazz trio playing some New Orleans Jazz as well as old standards and trays of french inspired appetizers were passed around. Of course, there was an open bar and bins of ice cold champagne bottles. We used tall vases with feathers on the tables to complete the Hollywood theme.
The reception ballroom was set up with a stage for Michael and his 3 piece band (including a baby grand piano player) on stage and the dance floor running the length of the ballroom with small round tables circling it  and of course, we had our sweetheart table right on the dance floor. The reception began after i changed into my 2nd gown and we began our First Dance.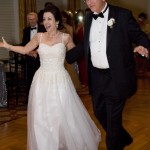 Our dance instructor, Michael Dean was (and is) amazing. Our song was Fly me to the Moon (which Michael Andrew did a special recording of just for us to practice with) and Michael Dean (the Dance Doctor) choreographed the perfect wedding dance. We looked like winners from Dancing with the Stars and absolutely amazed our guests! That song was also a very important element to my wedding invitations. You see, I wanted the invitations to play the song when opened by my guests and couldn't find anyone who could do it. So I had to do it myself! I worked with a custom invitation place and then ordered the music chips and put the whole thing together. It worked so well that I partnered with a friend of mine and we began Music Box Invites to provide this service to other brides.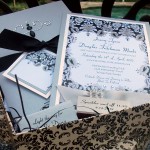 I got my chairs from A Chair Affair but owner Ann Taylor offered much more than just the chairs, she was my go to person for advice on other vendors. She was so helpful (and today carries all types of rentals) that I just can't thank her enough for everything she did to help me.
Linens were a challenge because of the carpet at Interlachen (very busy and odd orange/brown/gold coloring). My colors were Silver, Champagne and Black. But Over the Top Rental Linens were fabulous (and very patient) to work with. I wanted the room to be lit mainly by candlelight and for it to really shimmer. So we ended up with a silver glitter overlay and black sequined placemats instead of chargers (the chargers would have only been on the table for a few minutes, whereas the placemats stayed all night). The centerpiece of each table was a tall black candelabrum positioned in a square rhinestone covered box that had creamy white flowers in it. The table was accented with candles adorned with crystals and each table number was a framed picture of a famous Hollywood Couple and the menus featured Doug and I in a movie poster knock off of (the Astaire/Rogers) Top Hat. Inside the menus was a story on the Hollywood couple for that table. Guests visited other tables to find out about the other menu's during the evening and some tried to collect all 10.
Finding a photographer was difficult – so many of them had really great photos and examples to show us. In the end, I was most comfortable with Sterling Photography. Our engagement shoot was done as an Old Hollywood photo shoot and we were able to use those photos on the menu's and CD covers (our favor was a CD of Michael Andrew's Tribute to Frank Sinatra).  I really appreciated the website "here comes the guide" which gave me checklists to take to my meetings and helped me with my photo list. We made sure to take a picture at each table so we had pictures with all our guests. Remembering that after my first wedding, we only watched the video the next day, I didn't do a video except I had a friend video tape and edit the first dance video.
While our reception flowers and my bouquet came out great, we had a problem with the florist overall so I won't mention that vendor. The only advice I can give is to make sure that you get pictures beforehand of WHAT your flowers will look like to make sure they are making what you want. I had given the florist pictures of what I wanted for the cocktail hour and he didn't follow that AT ALL. It was totally different and that was upsetting to me because he promised me they would be what I wanted (I was going to do them myself since it was just a tall vase with feathers – no flowers) but he insisted. It was really the only misstep other than some disco lights our lighting guy gave us for free that we didn't use.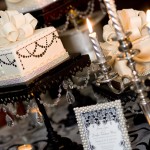 My cake lady, Everything Cake probably won't ever do another wedding cake after me. Originally we were doing a standard 3 layer tiered cake but when I saw these cake plates, I knew I had to changed it to three cakes. After a lot of back and forth and sketching, she DID create the most perfect cakes and we were very happy.
The evening was ending all too soon and I changed back into my ceremony gown (I will save the saga of the 4 gowns for another blog) and we made our way out for the sparkler exit. I have to say this was probably my favorite part of the evening. The sparklers lasted long enough for us to parade up and down three times – to chants of ONE MORE TIME and the pictures from it are just gorgeous. Then spontaneously our guests started to sing "Fly me to the Moon" and serenaded us as we got in our car to drive off …
I just wish the day could have last longer but the memories (and our photo books) will last a lifetime.  And now I get the great pleasure of helping my step daughter plan her wedding!
Joann Marks is the founder and co-owner of Music Box Invites, contact her here!