As many brides are using spreadsheets and calculators to create their wedding budgets, I am sure a few have them have wished that money was no issue and only the sky was the limit. So what kind of wedding do people have when that is the case? Here is one wedding that was unbelievable …
James Stunt (Businessman) and Petra Ecclestone (Racing Heiress) –  So what does $19 million buy these days?  Well a fairytale wedding for one. The August 2011 wedding of 22 year old Petra to 26 year old James Stunt took place in Odescalchi castle ( £310,000 to rent)  , a spectacular 15th-century Italian fort. Each invitation was hand delivered  and presented in a beige suede box containing three different-sized scented candles each embellished with the Ecclestone family monogram. An estimated 250 guests flew to Rome for a three day event documented by Hello Magazine. The Castle overlooks Lake Bracciano, and the guests were welcomed by an extravagant dinner in the armory the night before the ceremony. The bill for this celebration dwarfed the six-figure sum her father Bernie paid for Petra's engagement party at Battersea Power Station where 300 guests were treated to vintage Cristal champagne and pop star Rihanna was paid £250,000 to perform for the couple.
Wedding day, the medieval town of Bracciano ground to a halt, the cobbled piazza closed off as fleets of cars taxied 250 VIP guests (including Royalty) for the twilight ceremony inside the castle whose grounds had been transformed into what was described as a 'magical world' themed setting, with air-conditioned, flower-filled canopies to keep guests cool. They were greeted by an 18-piece string section from the Royal Philharmonic Orchestra, which cost more than £100,000, led by renowned conductor Nigel Short, who performed a 40-minute selection of classical music. Accompanying them was the 20-member Tenebrae Choir, described as 'one of the greatest choirs in the world'.

A team of ten make-up artists, including celebrity specialist Gary Cockerill, a close friend of Tamara's, were flown out to help prepare the wedding party and family and guests were put up in £2,300-a-night Hassler Hotel suites. Petra, dressed in a £80,000 couture wedding gown by designer Vera Wang, set out from her suite in Rome 30 miles away in a white Rolls-Royce Phantom, before switching to a vintage Rolls Royce and her driver was F1 star Jean Alesi. She was accompanied by sister Tamara, 27, and two bridesmaids, close friends Skye Mellar and Ines Raddock.
The hour-long service, held outdoors, was also accompanied by the Royal Philharmonic Orchestra. Once pronounced man and wife, Petra and James, and their guests were serenaded by Italian tenor Andrea Bocelli, who performed his worldwide hit Time To Say Goodbye, then Somos Novios, ending with Can't Help Falling In Love.
A reception followed in the castle gardens, where guests were served vintage Louis Roederer Cristal champagne and £4,000-a-bottle Chateau Petrus wine in an air-conditioned white marquee, while acrobats performed beneath hot-air balloons amid the first of the evening's two fireworks displays (£100,000). It was the beginning of a night of opulent celebrations, which next saw Eric Clapton – a friend of the Ecclestone family – providing the music for the couple's first dance, free of charge. Clapton was followed by The Black Eyed Peas (£1.5 million fee), and DJ David Guetta,  £500,000 (for a DJ!!! – maybe the Philharmonic is in the wrong business)
I know most of us can't afford such an event but still want an "over-the-top" wedding. Short of winning the lottery (or a spot on the  David Tutera Wedding show); here are some suggestions: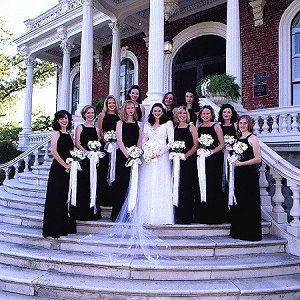 1. Pick an Historic Venue – all of us can't fly people to Rome for a wedding in a castle, but in most cities there are some great Historic Places. In New York City, people can get married at the NY Public Library for example, and in Macon, GA there is a lovely place called The Hay House. When you choose a historic plantation or home, you don't need to spend much on making the room pretty so you can save on linens/flowers/etc. Check out this link for a way to search for great places.
2. Choose a venue that is beautiful outdoors – Consider a Vineyard for your wedding. If the scenery is beautiful, again, you don't need tons of decorations to make the event special.
3. Order very unique Save the Date and Wedding Invites – there is nothing more elegant than when a guest receives an over-the-top invite. If you are very crafty you can make them yourself or consider having a custom couture company do it for your. Music Box Invites creates MUSICAL invitations that your guests will talk about for years!
4. Hire a STAR to sing – Not everyone can afford the Black Eyed Peas but there are tons of "cover bands" who can do your favorite performer's music. Some even dress up like the performer, we are not talking the cheap Elvis impersonators here but real singers who can make your event sparkle.
5. Fireworks? While fireworks can cost thousands of dollars and most places won't allow them anyway, the sparkler exit is truly magical and beautiful and very photographic!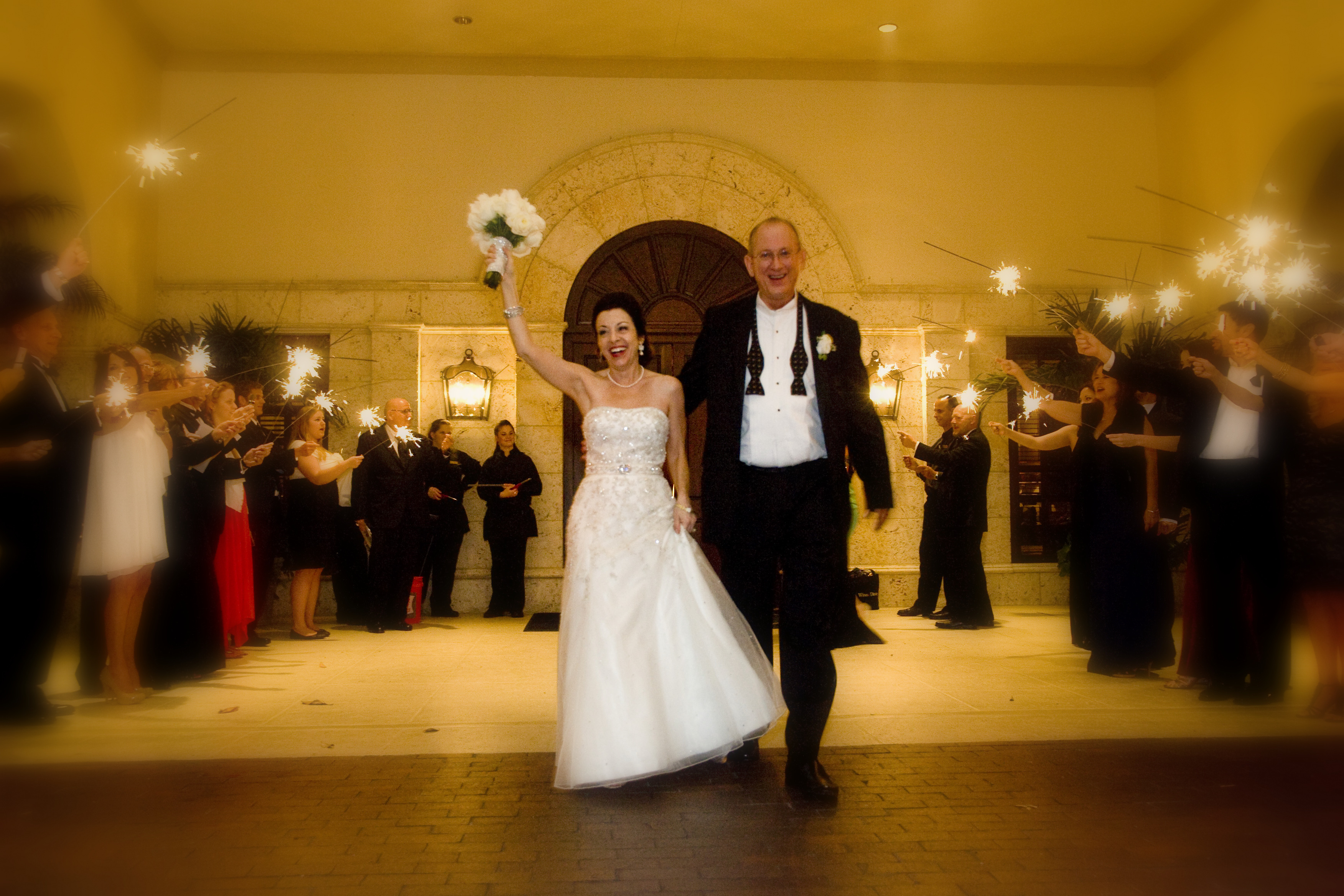 A sparkler exit is not extremely expensive but very memorable