For years women have used lipstick to make their lips look smaller, bigger, fuller, and smoother, etc. Did you know that there is a way to apply lipstick so that your teeth look whiter? Just one more reason to arm yourself with your favorite tube every day before your wedding day! Check out these lipstick secrets for whiter looking teeth!
Steps to Prep
Prior to applying the lipstick there are three steps you should take to keep color on your lips and away from your teeth.
Smooth-Exfoliate your lips once every few weeks. Use a simple sugar and lip balm paste that you can make at home. Gently rub the paste over your lips for a few seconds and rinse. This will help the lipstick go on easy and stay longer.
Brush-Establishing a good oral health routine can do more than just ward off cavities. Brushing your teeth helps remove food particles and plaque build-up, making it harder for lipstick to stay to your teeth. You definitely want to avoid lipstick stained teeth!
Repel-You can always use petroleum jelly if your teeth attract lipstick. Just take a small amount on your finger, apply to your front top and bottom teeth and it will repel the lipstick.
Do the finger trick! – after applying lipstick, take your pointer finger and put it your mouth, close your lips and slowly pull out your finger, this will make sure that any lipstick residue on the inside of your mouth is removed.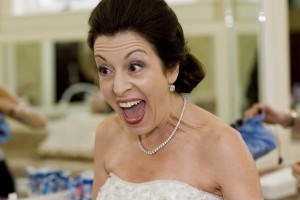 Shades for a Brighter Smile
Lipstick is a great way to add color, show your personality and bring your make-up together. However, choosing the right shade can also enhance your smile.
Just Say NO – Yellow, Orange, Brown—These colors are not the way to show off a whiter smile. These shades (and colors with these undertones) can bring out stains in your teeth. You should also avoid colors that are close to your skin tone.
Go For It! Red, Berry, Plum—Bright, bold colors are just what you're looking for to create a brighter smile. These colors give a contrast from your skin tone and really make your teeth look whiter. Crimson and fuchsia are hot colors for 2013, but if you are too modest to go this bold you may want to try a plum or berry first. There are so many variations of these colors you are sure to find one made just for you!
Application How To's
Now that you know how to prep your lips and which colors are best, here are 5 steps to award winning application.
Prime-Using a quality lip primer will help your lipstick stay longer and look smoother. This gives you the look you want for hours.
Line-It's important to purchase a lip liner that matches your new, bold lip color.  Apply the liner to the edges of your lips as well as the outer lip area. This gives your lips a deeper color and won't leave lines around your lips once the lipstick begins to wear off.
Lipstick-Apply your lipstick to your outer lip area only! Make sure that there isn't any lipstick on the inside of your lips as this is a sure way to keep it off your teeth
Blot-This is one of the first things most people learn about lipstick application and it still stands firm in helping the color last longer and stay off of teeth. A best practice is to apply a second lipstick application after your first blot and then blot again for deeper color.
The Big Finish-After blotting you will definitely want to finish up with a clear lip gloss to enhance all of your hard work. The glossy look will bring everything together for a look you will love.
Applying lipstick may be something that you do every day or something you do only for special occasions. Either way following these steps will enhance your already beautiful smile and give your teeth that bright white look you're going for. Now all you need to worry about is enjoying your special day!
This article was written exclusively for musicboxinvites.com by Bennett Family Dentistry, a team of dental professionals offering general and cosmetic dentistry services.