Music Box Invites has teamed up with an incredible artist to offer brides even more unique choices in wedding invitations. We can combine her paper engineered die cut invitations with our musical boxes for a truly OVER THE TOP invitation that will astound your guests. Pricing will depend on the complexity of the invitation but will begin at about $30 per invite including the box and music.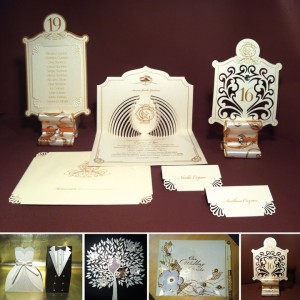 Olga Cuzuioc Sinchevici is the creator of these unique handmade paper invites.  Olga was born in Republic of Moldova and lived in various countries and cities since age 14, which gave her the opportunity to explore the world and different cultures. She loves anything that gives her the opportunities to be creative and explore new things. Her complex and highly detailed  invitations have been done for a few upscale weddings in Europe & USA. All of the invitations were hand made and custom made and use special patterns/die cuts. She is passionate about paper engineering, invitations and fine art.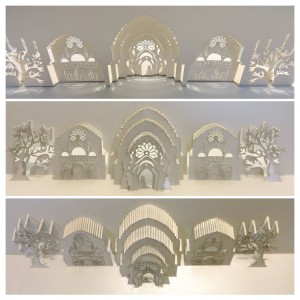 "I am an enthusiastic and motivated art director committed to producing a high standard of work", says Olga, "I would like to think about myself as of a highly creative thinker looking to apply a unique range of talent and experience to my designs."  She has a degree in Advertising and Graphic design, graduating as an outstanding senior from Columbus College of Art and design. Her previous work experience is in the corporate world, small business, government and design agencies.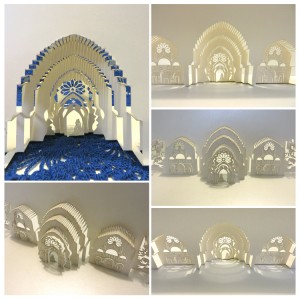 Now she is focused on creating one of a kind stationary for weddings and events. Quality, uniqueness and top design are the words her clients associate with the final product. "I focus on designing your dreams and bring them to life, while providing trend-forward, innovative designs. Even tough the process of making the cards is very complex, I strongly believe it's worth every second."  Olga continues, "My goal is to offer you the freedom in exploring your ideas, and still have the re-assurance of an expert creative lead to support you as much as you need. I will help you create a high quality, highly personalized product, that would set you apart."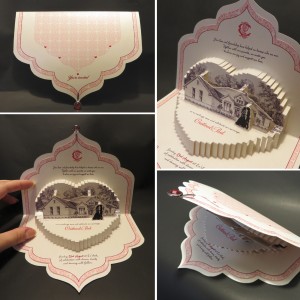 Whether you are promoting a product, sharing an announcement or celebrating a special moment, we can help you discover the power and potential behind a personalized product/card – especially when we add music or sound to these spectacular products.
To learn more about these products, contact Joann at Music Box Invites.