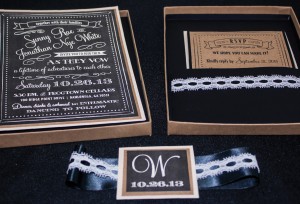 So you have a major event on the horizon – the wedding of your dreams, your parents' 25th wedding anniversary, your daughter's high school graduation – and you need the perfect invitations. Your invitations will help set the tone for your entire event, giving guests a preview of what's to come, whether your event is formal, casual or whimsical. Your invitations should also be infused with your personality and those extra personal touches.
In order to make this happen, it's important to establish a good working relationship with your invitation designer so you end up with the perfect finished product. So here are some tips on how to work with an Invitation Designer to get the perfect custom invitation of your dreams.
Discuss the Basics
When planning your wedding or other event, the first thing you should go over with your designer is invitation basics. A good place to start is to discuss different types of paper quality. For example, do you want a matte paper, something with texture, something metallic or perhaps paper that's been recycled? Be sure to do this in person so you can see and touch the options that are available.
This is also the time to consider different colors for your invitations. If you want to match your invitations to your color scheme, it can help to bring in a fabric swatch in order to find the perfect match. Keep in mind that different colors impart different feelings. For example, white and off-white are classic wedding choices, pink denotes love and blue is associated with peace and tranquility. Make sure you choose a color that feels right to you and works with all your other invitation elements.
Another important part of your invitation to discuss upfront with your designer is font style. Choices are virtually limitless, with options ranging from fancy, flowery scripts to Art Deco sophisticated to whimsical and light. Be sure to also discuss word limits with your designer and have a general idea of what you would like to say.
Iron Out the Details
Once you have worked out the basics, it's time to inject some personal style into your invitations. Perhaps you're passionate about flowers and want them prominently displayed on your invitation. Maybe you want to use a special photograph. If your husband-to-be is a motorcycle attorney and you both love to ride, find a way to incorporate that into your invitation. If you can dream it, it can be done.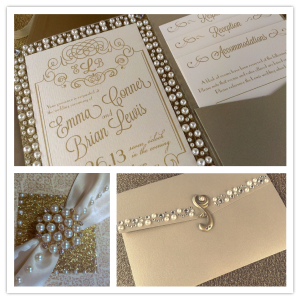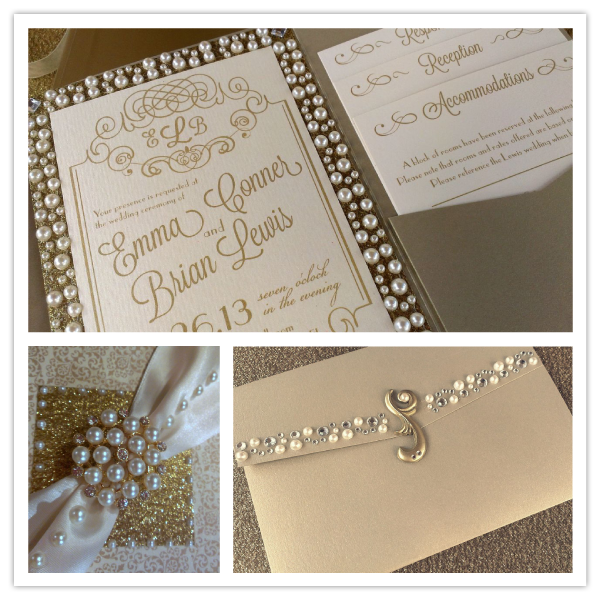 Your designer may find it helpful if you bring personal items in to help in the design process. If you have a particular style in mind it's helpful to provide examples, such as an antique plate's colors and style or an inspiring photograph. The more you bring with you and the more details you provide, the easier it will be for the designer to hone in on your concept and bring it to reality. Joann Marks, founder of Music Box Invites suggests that brides and the designer set up an Pinterest Account so they can share ideas easily.
The designer should provide you with several mock-up designs, and from these you can zero in on what you like best. This is also the time to make subtle changes if any are needed. Once you have a final selection, be sure to proof it carefully and even enlist a friend to do so. The more eyes on it, the better. Another tip that the designers at Music Box Invites found helpful is to read the invitation backwards!
Designing your ideal invitation takes time and effort, but the results will be well worth it. You will have an invitation that reflects your own personal style and personality and encapsulates your special event in a perfect little package.
Adrienne Erin is a freelance writer and designer who loves social media, music, and the French language. To see more of her work, follow her on Twitter at @adrienneerin or visit her blog, Design Roast.