Most of the time the focus is on accessorizing the bride not the groom. It's just as important that groom is elegantly accessorized to complement the bride's look and wedding theme. Here are some ways a groom can accessorize to take his look to the next level.
Belt
A simple styled belt with a bold buckle will add a subtle touch of elegance to your suit or tuxedo. Choose a belt buckle design that's not too busy and one that complements the bride's accessories.
Boutonniere
Don't accessorize your suit with the standard one flower boutonniere. Have one designed with a flower accented with rhinestones. This style of boutonniere will add elegance to your look. You can also have a boutonniere designed according to your interests. A unique boutonniere will definitely make you stand out from the rest on your special day.
Vest
A vest will give your outfit a more formal look. You will want to choose a vest pattern that coordinates with the wedding colours and theme. Select a unique vest style and one that complements the wedding party, especially the bride. Vests come backless or with a full back. A vest with a full back will give your suit or tuxedo a more elegant look.
Cufflinks
Custom cufflinks are a great way to add a touch of personality to your outfit. Whether you choose a traditional styled cufflink with a script letter or custom-made cufflinks from Cufflink Factory it can be that one wow accessory that will complete your look. And they also make a great gift for your groomsmen.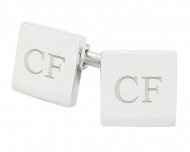 Tie Pins
A rhinestone embellished tie pin will add just the right amount of bling to make you stand out on your special day. Tie pins come in all shapes and sizes. Select a design that coordinates with your wedding style and colours. Another option would be to accessorize your tie with a variety of scatter pins, which look best on an understated tie.
Watch
A dressy watch is an accessory every groom should wear on his special day. It will set the tone of your look and add class to your outfit. A beautiful gold designer watch or one embellished with diamonds are luxurious timepiece choices that will always be in style.
Are you surprised grooms have so many accessory choices available to them? From cufflinks to vests, the options are endless. Elegant accessories are definitely a must-have for completing a groom's wedding outfit and allover look.