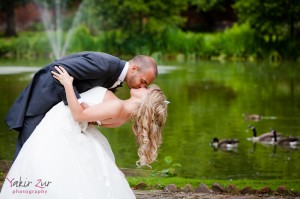 Planning your wedding is supposed to be a joyous and happy event, yet brides often end up feeling stressed over blown budgets and expensive options. Implementing these tips may relieve some of that pressure and keep your wedding budget-friendly. Don't be intimidated by DIY projects; some of these are easier than you think!
1. Make Your Own Cake It sounds like a daunting proposition, but instead of an elaborate multi-tiered cake, consider making a small, beautifully-decorated display cake as your showpiece and cupcakes for guests to eat. Check out www.Fondarific.com's selection of delicious fondants to help make your cake taste just as good as it looks. If you're not confident in your baking skills, enlist a friend or family member that has some experience in baking and get the job done that way. You'll save hundreds of dollars on what could have been a very expensive cake, and you can put that extra money towards a honeymoon!
2. Be Your Own Florist Choosing locally-grown seasonal flowers can save a bundle for your wedding day. Making your arrangements yourself can save even more. Keep it simple by choosing a few large blossoms and one or two pieces of filler for your bouquets. Try pairing peonies with Queen Anne's Lace for a romantic look, or buy roses and baby's breath to make a classic arrangement. Whatever you choose, be prepared to do your arranging just a day or two before the wedding, and make sure to have plenty of cold space available to store flowers.
3. DIY Decorations Buying pre-made table runners, displays and wall hangings will quickly break your budget. Instead, look in wedding magazines for the style of decorations you want, and then recreate it at home. Popular online craft sites will contain a wealth of tutorials and DIY instructions for homemade wedding decorations. You can easily make hanging lanterns, votives or table lanterns from mason jars, wire and tea lights. Buying your supplies in bulk will save lots of money as well, so make sure to count up whatever supplies you'll need all at once and buy them together to get the best deal. You can still get quality decorations for a pretty decent price, so don't skimp on the quality for fear of ruining your budget.
4. Schedule Around Popular Times A June wedding on a Saturday evening will always be more expensive than getting married on a Friday night in October. If budget is a big concern and your timeline is flexible, consider scheduling around the popular wedding times. Consider a morning ceremony, or a Friday night reception. Have an autumn wedding instead of a spring or summer one. Going off-season can help put a little wiggle room back into your budget.
You can plan a great wedding for any season as if you get creative. If you follow these tips, they can help take the stress out of budgeting for your wedding.
Remember that having the wedding of your dreams doesn't have to cost a fortune, as long as you get creative and enlist the help of others. And the money you save on these things can allow you to splurge on other things like the perfect gown or over-the-top wedding invitations. Make your wedding what you've always envisioned without emptying your wallet!
Guest Blogger, Rose McKellen is a freelance writer from Austin, TX. She enjoys spending time outdoors with family and friends, as well as exploring the music scene in her hometown.