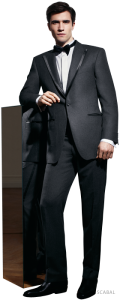 FORGET THE TUXEDO RENTAL THIS WEDDING SEASON
Mohan's Custom Tailors, which designs clothing for sports, entertainment, business and political leaders, said a significant fashion trend this season is men from all walks of life following the lead of Facebook tycoon Mark Zuckerberg and actor Alec Baldwin, opting out of tuxedo rentals and buying custom-made attire for their wedding day. The custom tailor has crafted looks for that special day from bolts of fabric laced with gold and platinum threads, crushed diamond or sapphire stones, or something as functional as the "Anti-Sweat Suit," which keeps men up to 10 degrees cooler with lightweight, high-performance material and a jacket without lining.
These custom creations can add anywhere from a few hundred to tens of thousands of dollars to the cost of the groom's wedding look. While Mohan's custom suits start at $700, the "Anti-Sweat" option will jump that price to $3,000. Those made from fabric that incorporates crushed sapphire will start at $5,000, and diamonds jumps to $10,000. Want gold or platinum threads and you will be north of that number.
"It used to be that the bride was the only one with diamonds, but not anymore. Men, too, want something special, a fashion keepsake for this special day," said Founder and Proprietor Mohan Ramchandani. "More importantly, couples understand that photographs from their wedding day will follow them a lifetime and an ill-fitting, rented tuxedo or mass produced suit will not look as flattering for prosperity. Men are realizing that an off-the-rack outfit from an upscale department store will cost $1,000 or $2,000. For about the same cost, maybe even a bit less, they can get a hand-tailored suit that falls perfectly on their bodies."
Mohan's Custom Tailors has designed over 150,000 beautifully crafted and fitted made to order men's suits, shirts, formal wear, and top-coats since 1972. With over 14,000 of the finest fabrics from England and Italy to choose from, Mohan's delivers custom-made elegance at retail prices. Expert tailors will take 25 measurements for each suit, which is delivered in four to five weeks. And, if you have too much wedding cake, Mohan's provides free alterations for one year after the purchase. To learn more about Mohan's Custom Tailors, visit www.mohantailors.com. So forget the tux, guys, opt for a custom made suit instead and match your beautiful bride on your most special day.
Another celebrity trend in weddings, are custom couture MUSICAL wedding invitations – brides are crazy about them and they add a unique red-carpet feel to any wedding. Semi-custom start at $15 per set but custom can up to $100 or more! The Knot magazine reported that there is a trend towards smaller more elaborate weddings and details such as custom made suits and musical wedding invitations fall into that category.