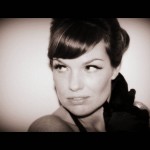 Music Box invites is so excited to be teaming up with sultry singer – Hollie Kamel.  Hollie, Your Wedding Singer,  as she is know in London is a classically trained professional singer featuring a  vast and varied vocal range and style that works harmoniously with virtually any song choice.  Whether it's a rip-roaring rock song or an emotional ballad, Hollie has an uncanny ability to find just the right mood and approach in her vocal performance to compliment the song perfectly. She is able to quickly understand what the songwriter is trying to achieve and by using a balance of her exquisite tone and perfectly honed technique she is always able to come up with exactly what is required.
Now, Hollie's incredible talent will be featured in the most unique place — on YOUR wedding invitation! That's correct, Music Box Invites has access to Hollie's recordings and since Hollie's wedding song list is over 100 songs – covering virtually all genres of music including: Pop, Jazz, Soul, Country, Swing, Contemporary & even Musical Theater; we are certain we can find the perfect song for any bride's wedding invite. Or we can even ask Hollie to custom record a song for us if you don't see the one you want!  Hollie joins our other incredible talent, Michael Andrew.  Hollie and Michael's songs can be chosen as premium music for your invitations for $150 plus $1 additional for each invite. We can also record a song of your choice as custom music, for $250. Check out our new song list now.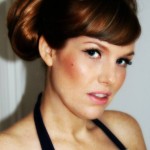 We spoke to Hollie about her career and how she decided to go into the "wedding" business.  She answered "I have a heartfelt passion for performing and knowing that every song I sing can hold a special place in someone's heart adds that magical sparkle and edge! Creating the perfect Soundtrack to any event will make sure that every musical moment is a treasured memory and as a trained singer & dancer I have the experience and understanding of what ingredients are needed to add 'Star Quality' to all my performances!"
She started singing at a very young age & had her first 'on stage solo' performance at about 10 years old. She went on to become a Grade A student in Music & Drama, landing numerous roles within musicals and on the radio.  She then embarked on  'classical' vocal training and was taught by the best; in fact her teacher had performed with the likes of Pavarotti. In addition to her singing career,she is also a qualified Dance teacher that specializes in Salsa, Bachata & Merengue.  And in her early 20's she ran and part owned a Live Music Venue in her home town of Essex. Her past also includes being a School Musical Vocal Director and having an extensive corporate background in Media, Admin and Marketing. She also has a HND's in Child Development, Behavioral studies which probably helps her when dealing with demanding brides and mother's there of. This busy performer is also married to an amazing man (who is a former world hip hop dance champion and a celebrity choreographer and dj) and has a simply gorgeous little girl called Jasmine Lila, who is nearly 4.
To work with brides, she told us that she mainly LISTENS what they want for their special day and then she fills in the gaps and creates a customize soundtrack to fit her client's needs.  This means she is interested in their wedding style (formal, casual, modern, funky), their color schemes, so as to make sure her attire compliments the occasion and not clash, what songs are important to them and why and basically connect with that magical sparkle that creates each and every beautiful wedding. She feels that she is creating personal memories that couples and guests will keep for years to come.
"Let me be the 'Soundtrack' to your Wedding Day!" says Hollie,  "My voice is my gift and my guarantee to you, as your Singer, is to deliver a professional performance above any other that will leave you & all of your guests amazed!"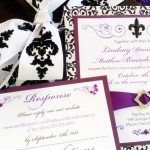 And now, that passion can be heard BEFORE your wedding day on the invitation you send to your guests. Only Music Box Invites offers customer, couture MUSICAL wedding invitations that are so exquisite, your guests will think they are attending the event of the season. Like a red carpet designer made gown, these invitations are something that you will treasure forever.  Invitations begin at $20 for a semi custom suite (3 layer invitation with ribbon and buckle, RSVP card/envelope, box in assorted colors and standard music chip) or Custom Couture where the sky is the limit. We work with you to create the perfect invitation to match your theme and desires.
For more information on Music Box Invites; contact Joann.