My goddaughter, Jessica is getting married and we both travelled to New York to begin the search for the perfect wedding dress. These are Days 2 and 3 of our hunt! Continued from And the hunt is on! NYC #Wedding Dress Shopping #SayYesToTheDress
Saturday afternoon – The Sample Room
The Sample Room is hidden away on a 2nd floor with no name outside, it was fun trying to find the place but we were actually 30 minutes early for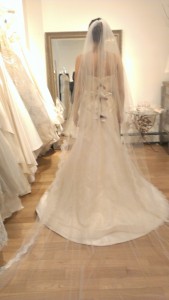 our appointment and they let us in. Luckily we were the only ones there and had a nice consultant. But there just were not a lot of gowns to choose from. They had some fabulous fashion forward gowns but Jessica's taste is much simpler than what they had in the store. There were $10,000 gowns for under $3,000 so I strongly suggest checking it out but remember the stock changes a lot. We were done in 30 minutes but really liked the people! We were allowed to take as many pictures as we wanted and Jess got to try on a Monique Lhullier gown. I saw many I liked but they were more elaborate and beaded (my style).
Score:
Selection: B- (but it changes)
Service: A (very nice, very accommodating, not pushy)
Sunday 11am – Mark Atelier
Jessica was able to get a last minute appointment for Sunday morning at 11 am at Mark Atelier. I was
needed elsewhere so she went alone.Their website had said that gowns were $5,000 and up but that was not the case at all when she got there. Jessica loved the consultant who took pictures for her and also really loved a very different gown (beaded top) and A-line organza bottom.
Score:
Selection: A
Service: A
Sunday afternoon – David's Bridal
We did a walk in to David's at about 2:50 on Sunday.We were told there were no 3 pm appointments but they could do a 4. We asked if we could look around first and he said sure. One weird thing was I asked where the sale rack was (huge sign on front door) and he said because they were a flagstaff store they didn't have any sale dresses. But we found 3 racks of them! We went row by row and while there were a lot of gowns, we didn't see anything even close to what we were looking for. We did see a lovely bridesmaid gown on a mannequin and we took pictures of that.
Score:
Selection: A
Service: A (I had looked at David's for my gown two years ago and the consultant was fabulous but didn't find "the" gown)
Sunday afternoon – Designer Loft
We took a chance and went with no appointment and were very welcomed by Linzy. We looked at all the racks and only found a couple of gowns that had the elements Jessica liked but not as much as the other ones she tried on earlier. I saw a gown I truly loved but again it was not Jessica's style. It is a lovely store with a nice staff. I did notice more gowns in the back (and Linzy went and got one) but we were not able to go and search those racks for some reason. I assume Linzy found the best that suited Jessica but you really never know until you try something on.
Score:
Selection: B (just not enough gowns)
Service: A
Our next steps are to do more research on the brands and styles we liked the best and then try to find those gowns to try on. I think we have made great progress and will be able to choose the perfect gown soon!