Once you have chosen your wedding gown, your next step should be your headdress selection. There are so many different choices in veils and wedding headpieces. Here are some tips on choosing a veil or headdress: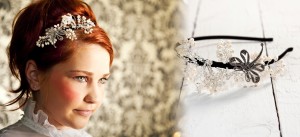 1. Decide whether you want a veil or not – not every bride wears a veil these days, especially older brides and ones getting remarried. You might want to consider a unique headdress instead. For example, Heirlooms Ever After customizes head pieces for brides that not only match the gowns but also can carry sentimental value. Their Duet collection features the bride's own family heirloom jewelry incorporated into the bridal headdress and it can be removed safely after the wedding day.  For example, they are currently completing a headdress for a bride whose Grandmother passed away last year and left her a brooch.  They are incorporating this into a side tiara for her so that the memory of her Nan will be with her every step down the aisle and in the photographs too!   Or you can choose from one of their designs with one of their stunning sterling silver Marcasite brooches that can then be removed after the day and worn again. And their Emily design also converts into a fresh water pearl bracelet and has a removable brooch!
2. If you do decide on a veil, the first step is to know your face shape – The veil depends very much on the shape of the face of the person who would be wearing it. Basic face shapes are  Oval, Round, Oblong, Heart, Diamond, Square, Rectangle or Triangle. While the first four shapes are soft and curved, the last four have more angular cuts. Pull your hair back and see which image below best matches your face shape. And remember opposites attract: for example, if you have a round, full face you can wear a veil that falls along the sides of the face to make your face look narrow.
3. Next consider your body type. A tall bride can wear a veil that is more commanding while for a petite bride, the best purchase would be a very fluffy veil with a large pouf. And brides with thick waist line should go for an asymmetrical veil that cascades varying lengths of tulle down the back. Before purchasing try the veil and check yourself in front of a full-length mirror to ensure that the proportions are right. Examine the veil from all angles as one that might suit you from the back might not look that flattering from the front.
4. Make an appointment with your hair stylist to decide what bridal look suits you best. A hair stylist can give you an idea about what type of veil or headpiece will work with the way your hair would be styled on your wedding day. Discuss using a headpiece instead and show them styles you like. This beautiful hairstyle is all about the headpiece.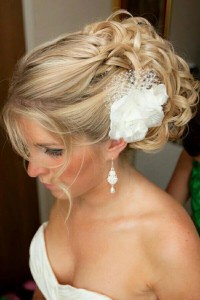 5. Remember the details of your gown – does it have lace, beading, etc and try to make sure the veil or headpiece compliments and doesn't clash with it. Of course, the best way is to try the headpiece or veil on with the dress but that is not always possible – especially if it is being custom made. Provide the maker with as much information and pictures about your gown as you can. And again, opposites attract, if the gown is simple, the headpiece can be more elaborate but if it is already embellished, go with a simple veil or headpiece so it doesn't over power the dress.  Any sort of ornamentation on your veil should start below where your dress embellishments end.
6. Another new trend is a traditional veil for the ceremony and then change the hair for the wedding – see these beautiful combs that can be added to your hairstyle after the veil comes off.
Our featured vendor is http://www.heirloomseverafter.co.uk/index.asp.  Heirlooms Ever After officially launched  in March 2012 on the catwalk at the National Wedding Show.  They are two regular mums (and sisters) who for many years have been making bridal accessories for friends and family but after our children had grown a little, we had more time and decided to give it a go.  The quality of what they wanted for themselves, in their bridal headdresses wasn't out there so they made their own and it grew from there. Like them on Facebook: https://www.facebook.com/heirloomseverafter?fref=ts