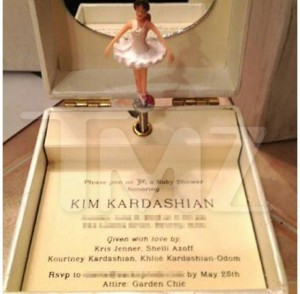 Kim Kardashian's sisters Kourtney and Khloe are throwing a baby shower for Kim and her daddy-to-be rapper boyfriend Kanye West. According to E! Online, the invitations were contained in a ballerina music box that when opened played Kanye's famous song, "Hey Mama" and put into motion a twirling toy ballerina.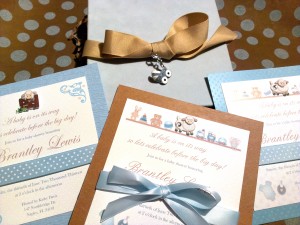 While Music Box Invites doesn't have the dancing Ballerina (yet!), they are the only patent-pending custom, couture MUSICAL invitation company. Their adorable baby shower invitations play "Lullaby and Good Night" when opened by the invited guests. "One of our special features" says Joann Marks, founder of the company, "is to include a charm on each invite that the guests can then bring to the shower and give to the mother-to-be to add to her Pandora-style charm bracelet."  These are some of the special touches that her company includes so that the invitation sets the tone of the event.
In addition to baby shower invitations, Music Box Invites offers a line of "Custom Couture" wedding invitations where each bride can work with the Music Box team to create a totally customized invitation package incorporating music or other sound bites. They also offer a semi-custom line where a bride can choose from one of 10 designs in various colors and papers. Offering personalized music or sound, sumptuous papers, custom jeweled products featuring fine details and superior workmanship, the end result is always a one-of-a-kind creation that is truly a work of art.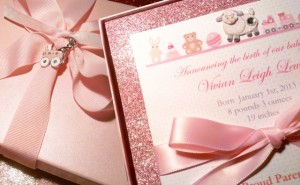 And that is not all – they can make any event a celebrity style event –  the team can also create invitations with music for birthdays, bar and bat mitzvahs, Quinceañera celebrations, and other special events.
But unlike the price a celebrity like Kim Kardashian pays,Music Box Invites have semi-custom invitations that start at only $15 per set and that includes the invitation, RSVP card/envelope, box, music and embellishments!
For more information visit www.musicboxinvites.com