My goddaughter, Jessica is getting married and I am helping her with the wedding. First job: find the perfect gown! Jessica lives in Philadelphia and I live in Orlando, but we decided we had to do shopping in New York so we met over Mother's Day weekend to begin the search.
I made appointments at the most popular Bridal Salons in New York (this is a requirement, don't just show up as you will probably get turned away). Jessica loves the show "Say Yes to the Dress" so she wanted to go to Kleinfelds. So we made that the first appointment on Friday. We then had an afternoon appointment at Lovely Bride. On Saturday, we went to RK Bridal and the Sample Room. Sunday was Mark Atlier, David's Bridal (walk in) and the Designer Loft.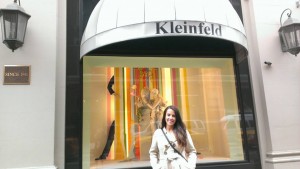 Jessica did her homework and brought pictures of gowns she liked and overall, her choices were a sweetheart neckline and an a-line style dress. She also wanted to see what she looked like in some other styles as well. Since most appointments are only 60-90 minutes, it is important to let your consultant know your theme, the wedding date, WHERE the wedding will take place so they can help you narrow down your choices. If your wedding is outdoors in the summer, a satin dress heavily beaded is a bad choice. So if that is the gown of your dreams, re-think the outside ceremony and move it inside.
Jessica's venue is not finalized yet but the date will be late April or early May 2015 and she wants a tented outdoors reception – preferably in a garden atmosphere. So we want the dress to be more light and airy and comfortable.
We were looking at gowns up to $5,000 but really wanted to keep it under $3,000 if possible. Here are our results.
Friday 11 am – Klienfelds
We were greeted right on time by "Judith" and taken to a room where we discussed the details of the wedding and looked at the pictures we brought.
Kleinfelds was having an Augusta Jones trunk sale and Judith was steering us towards ONLY trying those on. We did like a couple of those gowns but really wanted to be able to look at lots of gowns in our style and choose some to try on. Instead we only were able to look at four racks and choose from them. Then Judith brought in a couple more gowns from other designers when we really pushed her. It really was a huge disappointment to us since it was obvious she was not going to be more agreeable. Plus, she was trying to convince us that if we wanted one of those gowns we liked, we could only get the discount that day. On the nice side, the representative of Augusta Jones was very helpful and let us know that a lot of things could be customized. For example, the gown we liked the best had a lovely lining of sequins under some layers of tulle. Therefore, the dress sparkled when she moved. Unfortunately, the tulle was getting caught in the tulle. We felt that organza would have worked better and the representative agreed and said it could be done for about $300 more.
The other disappointment was that they don't "allow" pictures to be taken. This is the most ridiculous rule that many bridal salons have. They think you are going to use the picture to have the dress made or find it wholesale. But you have to see what you look like in pictures. Trust me – it is NOT what you look like in the mirror. If the dress doesn't photograph well, there is nothing you will be able to do to fix it. She finally relented and let us take pictures of the couple we liked the best but stuck in the small room – not anywhere where it would really photograph better.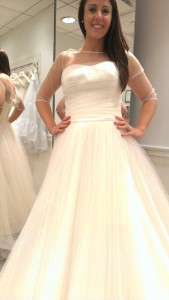 We are still considering that Augusta Jones gown or one that has some similar features – the sequin lining for example. This gown (with the organza changes) is possibility #1. We took video of her walking in it and really love the way it moves and shimmers.
Score:
Selection: D (we know they have hundreds of gowns but we were not allowed to see them)
Service: B-  Judith was very knowledgeable but she was obviously more interested in a sale than in us.
What we learned – ask if things can be changed/customized by the designer and that a belt changes the look drastically.
Friday 2 pm – Lovely Bride
Lovely Bride is a cute loft-like store with good natural light and lovely helpful staff. We were very comfortable with our consultant. She used to work for Kleinfelds and told us that she left because of their pushy policies. She wants "her" brides to find their perfect gown and knows most people don't buy on their first visit. She listened to Jessica's wedding plans and what she liked so far in gowns and then we were able to go and choose as many gowns as we liked. There were about 8 racks of dresses so the selection was not overwhelming but we were able to find at least 8 to try on.
One gown that really caught Jessica's attention was designed by a project runway winner. It had the sweetheart top and A-line shape. What we liked were the organza layers that floated when she walked. We added a crystal embellished belt (always remember that a belt can change the look of almost any gown dramatically). We loved the space in the back where natural light poured in and Jessica could walk around and see how the gown moved. We always had her sit down in the gown as well to see how it looks and feels while seated. We were still hoping to find a gown that had the sequin lining but they didn't have one. They did have some sequined gowns and an organza removable skirt so we tried that on to see how that would work.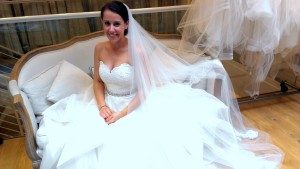 There is also a Lovely Bride in Philadelphia and Jessica plans on visiting that one as well. The project runway dress is possibility #2 so far.
Score:
Selection: B- (there just were not that many dresses to choose from)
Service: A (we really liked it there – we would have liked a little longer appointment – they are 60 minutes and I think 90 is more reasonable.
What we learned: There are tons of little known brands that are high quality and priced well; don't be a designer snob.
RK is a very different type of bridal store and there are no appointments; you need to be in by 12:30 to try gowns on. To start, it is not "pretty" but looks like a warehouse of gowns. You go in and sign in on a sheet and then find 4-5 gowns you like and get assigned a consultant. If the wait is long, you have no where to put your things down (coat, purses) because the seats are for the active appointments. If your wait is SHORT, you don't have time to really look over the overwhelming, vast selection. There are literally thousands of gowns in this store of all brands and prices. PLUS, a very large section of 50% off sample gowns (once the brand discontinues them, RK marks the gown they were using as a sample down). The discounted section was larger than Lovely Brides entire selection. So obviously, this store requires a lot of time to look. My suggestion is NOT to sign in right away but browse. You really are limited to 5 gowns on your first go around. After that the better consultants (I recommend Cheryl and Janice) will go find gowns for you to try on that fit what you are liking best. These consultants are amazing on how well they know the stock. I mean there are SO many gowns tightly packed on the racks. And if you are a plus size bride (DIVA), they have a section just for you. Plus there are bridesmaids and flower girl gowns as well.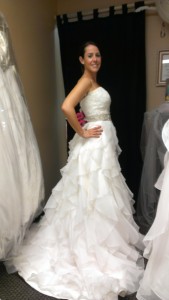 Anyway, after a lot of trial (Jessica was trying on some very different styles), we kind of fell in love with parts of TWO gowns. One was a Mikaella and the other was Paloma Picasso (who owns Mikaella). The Mikaella had a lovely "apron" layered front and a satin sweetheart top. The Paloma Picasso had a lot of layers and a lace sweetheard top. Jessica liked the top of the Paloma better and the bottom of the Mikaella – but maybe with a couple more layers higher up. Surprisingly, the Paloma photographed better but Jess is still not sure she likes that many layers – she thinks she has seen that too many times and she wants something very different.
Janice, our consultant found out that it WAS possible to mix tops/bottoms and was going to contact the factory to see what the pricing would be. We really liked RK but wish we had been allowed to search the racks more on our own. Jessica plans on making a 2nd (and probably 3rd) visit.
Score:
Selection: A++
Service: B+ (while Janice was lovely, there was one extremely rude and bossy consultant who was practically yelling at people and other consultants. We also don't like the no pictures rule (we had to hide in the room to take pictures). When I bought a gown from RK a couple of years prior, they didn't let me take the pictures till I agreed to buy the gown. It wasn't until after we got home I saw the pictures and was shocked on how bad the gown looked.
What we learned: More selection can be overwhelming – make sure to have enough time to look and make sure your consultant is willing to pull more than the original 4-5 gowns.
Continued here!