Buying a wedding cake from a bakery leaves you open for dozens of potential problems. The cake might not look the way you dreamed, the baker might not finish the cake in time and you might wind up with something that tastes bland or dry. Creating your own wedding cake is easier than you might think, and it gives you complete control over the taste and final design.
Making the Cake and the Frosting
A good cake starts with a good foundation, and the recipe that you choose serves as that foundation. An extremely moist cake can fall apart when you put it together, while a dry cake tastes bland. If you don't want to experiment with different recipes and ingredients, use a boxed cake mix. A mix that comes with pudding will be lighter and moister than a typical boxed mix. Lightly butter and spray your cake pans, and add a piece of parchment paper to the bottom to prevent sticking. While your cakes bake, work on your frosting. Buttercream frosting has the perfect balance of sweetness, and you can make it yourself from a few ingredients.
Adding Filling
After you remove your baked cakes from the oven, place the pans on a cooling rack and let cool for several hours. Removing the cakes from the pans is easier when you let everything cool. The main reason why wedding cakes taste so moist and light is due to the filling inside. A peanut butter filling pairs nicely with a chocolate cake, while lemon tastes great with vanilla cake. After your cakes cool, place a serrated knife on one edge of the cake. Using a gentle sawing motion, move the knife back and forth until you cut the cake in half. Repeat this step with each layer of your cake. Add a dollop of filling to the center of the cake, and push the filling to the edges with a large spatula before placing the second layer carefully on top. You can either make your own filling, or you can buy jam, lemon curd or another filling.
Stacking Tiers
For a stacked wedding cake, you need wood dowels cut to a height slightly taller than each layer. Apply a thin layer of buttercream to the top and sides of the first cake layer, smoothing out the frosting with an offset spatula. Insert the wood dowels in the top, tapping down on the top until the dowels go through to the bottom. Repeat the process with each layer you add to the cake.
Decorate the Cake
There are dozens of different ways that you can decorate your wedding cake. Use a piping bag with different sized tips to create pearls, flowers and other designs on the sides and top of the cake. You might also try gourmet buttercream fondant, which comes in various colors and hides any imperfections in the frosting. Edible decorations, including flowers and pearls are other fund additions.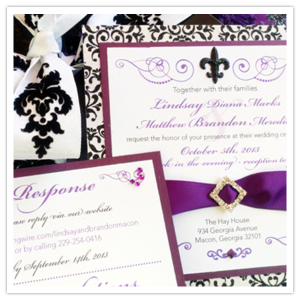 Making your own wedding cake helps you save money on your wedding costs, and you can save even more when you borrow pans, racks and decorating supplies from family and friends. Working several days before the event gives you plenty of time to fix any problems or mistakes you make, letting you present the perfect cake. The money you save can go into other things like custom wedding invitations or a more expensive wedding gown!
Guest blogger
Casey Haslem is a 25 year old writer. Her hobbies are reading, painting and pretending she knows how to write a book. She loves meeting people and making new friends. Writing opens up a whole world of new ideas and possibilities for her.