Planning a party, baby or wedding shower? Getting married? Then you are going to need invitations! And you want something unique and fun to get your guests as excited about your party or wedding as you are. Be the first in your crowd to send elegant, custom couture MUSICAL invitations and everyone will think they are coming to a celebrity event.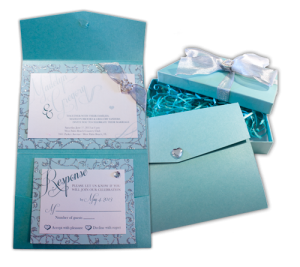 Musical Invitations are the HOTTEST Celebrity trend right now and until 6/30/2013 Music Box Invites – the only CUSTOM musical invitation company (patent-pending) – is offering a 20% discount on all orders booked by 6/30/2013. Art fee and contract must be turned in by 6/30 in order to get the 20% off Musical Invitations discount.
Semi-custom invites begin at $15 per set (set includes embellished invite, box, RSVP, RSVP envelope and music) and take about 8-12 weeks to produce. Check out our timeline function to see when you should schedule a consultation for your invitations.
Use the code BLING when you inquire or set up your consultation now by calling Nancy at 321-277-2415 or fill out this form and we will get right back to you!